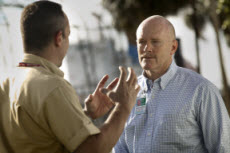 Intelligent HVAC equipment and controls generate streams of data. Until recently, all that data had limited value, because it simply wasn't accessible. Trane has solved that problem. Based on over 30 years of controls experience and knowledge of what building managers need—and need to know—to maintain and improve building performance, we're transforming the way buildings are managed using smart controls and technology-enabled services.
Trane controls and services now turn data into insight that can be used for an array of practical purposes.
Bring simplicity and accuracy to workspace comfort control


Make informed, proactive decisions about everyday maintenance and long-term asset management


Access flexible and accurate information, on demand


Measure, benchmark and manage energy use
In the not-so-distant future, this is how all buildings will be managed.

Make Occupant Comfort a Priority
How important is it to keep a handle on maintaining comfortable air quality, temperature and humidity levels? Very.

One BOMA study found the biggest reason that tenants move, outside of insufficient space, is lack of comfort. In owner-occupied buildings, comfort management is just as important: Uncomfortable working conditions can cause productivity to decline by up to 18 percent.

Whether it's managing multiple facilities in different locations, one building or one HVAC unit, Trane can put together building automation systems to suit a variety of needs.

Managing climate, lighting and energy management within a facility can be greatly simplified with the Tracer™ SC system controller. This web-based management tool makes scheduling, reporting and programming as easy as "point-and-click," and it does not require a dedicated workstation: Tracer SC functionality can be accessed through any PC, smartphone or tablet. Multiple facilities can be managed with similar simplicity—as a single enterprise—using Tracer ES™ building management workstation software.
Control Buildings from Anywhere
Mobile building control gives facility managers freedom, flexibility—and peace of mind. Accessible via smartphone or tablet, the Tracer™ Building Automation Systems Operator Suite mobile app allows facility managers to monitor and control buildings from anywhere, anytime.
Analyze and Improve Performance
Connecting building automation systems to the Trane cloud opens the door to a diverse set of technology-enabled services. From automated notification the moment an alarm sounds to a consultative program for improving building performance, Trane Intelligent Services use building data to inform service delivery and optimization activities. The consultative Building Performance program uses data intelligence to discover improvement opportunities that will provide documented results in energy and operational cost avoidance, improved equipment longevity, sustained optimized operations and enhanced occupant comfort. 

Trane Energy Advisory Services help building owners better understand and manage all aspects of the energy being used within their buildings. Using a variety of assessment tools, Trane analyzes energy data, identifies areas of improvement and then sends experienced local technicians to complete the work.
Trane also uses building data to provide a variety of reports. Tracking and documenting energy use allows us to identify performance trends that may indicate a need for service. Benchmarking against peer buildings can tell you whether or not it is time to replace inefficient older equipment to bring buildings up to current industry standards.