Building Solutions for Life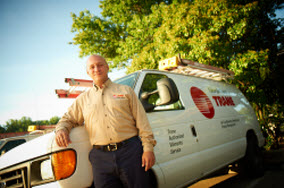 Trane with over a 100 years of innovation introduced an unprecedented number of new products and services. Commercial real estate owners and facility mangers are collaborating with Trane to create high performing buildings using technologies and products that deliver greater comfort and improved efficiency.
Featured Building Technologies
Packaged IntelliPaK™ II Rooftop Systems
Unitary packaged systems by Trane are setting new standards for heavy commercial applications. IntelliPak II helps improve net operating income (NOI) by offering best-in-class efficiency, combined with simplified operations and maintenance. Sustainability and safety features help improve building net asset value (NAV). Units use environmentally responsible R-410A refrigerant, and they are IBC seismic compliant.
Learn more…
Chillers
Trane introduced the world's first centrifugal chiller in 1938, and continues to lead the industry in chiller innovation. For example…

EarthWise™ CenTraVac® centrifugal water-cooled chillers are a trusted industry staple due to their high efficiency, superior longevity, unmatched reliability and low lifecycle cost. CenTraVac chillers gives building owners the lowest possible cooling costs, while delivering significant environmental benefits.

Trane® Stealth™ air-cooled chillers provide an unbeatable combination of energy efficiency, dependable cooling and quiet performance. Multiple InvisiSound™ acoustic reduction treatment options make this the ideal chiller for noise-sensitive applications.

Trane™ Wireless Comm
Trane brings a new level of flexibility to building automation systems (BAS) by eliminating communication wires between system controllers, unit controllers, zone sensors and service tools. Trane Wireless Comm is more reliable than wired systems. Wireless Comm reliability is the result of extended signal range and self-healing mesh signal technology. 
Learn more…
EarthWise™ Intelligent Variable Air Systems
New product technologies and optimized controls come together to create a VAV system that can deliver 20 to 30 percent greater efficiency than traditional systems. EarthWise Intelligent Variable Air Systems' user-friendly dashboards make it easy to monitor that performance and maintain peak performance for the life of the system. Wireless technology, retrofit dampers and prepackaged controls make system upgrades and retrofits a fast, trouble-free process. Suitable for use with DX and chilled water applications.
VariTrane™ VAV Terminal Units
Built in the worlds' most state-of-the-art manufacturing facility, using the most advanced techniques in the industry, VariTrane units are exceptionally reliable and rugged. They provide proven performance to industry standards, including AHRI 880 and 885. Built-in controls are factory installed and commissioned: Airflow, temperature setpoints and addressing are performed in a controlled factory environment. Units arrive on site completely ready to function properly upon startup.