Supporting the core mission of higher education
It is a complicated undertaking to create desirable and high-performing campus buildings. Over the years, many studies have made the connection between the indoor environment and student performance, in both children and adults. One of the ways Trane contributes to effective learning is by delivering better indoor air quality (IAQ). Trane has a presence in higher education buildings throughout the United States, and around the world.
Support for 4-Year Colleges and Universities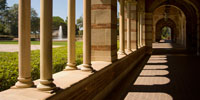 The reputation of your school depends on your ability to attract and retain students and faculty that uphold your standards and values. According to two reports published by APPA, the organization dedicated to educational facilities management, the distinct connection has been made between students' choice of school and the condition of the facilities.
Learn more about how Trane can help you provide a more desirable higher education environment.  
Support for 2-Year Community and Technical Colleges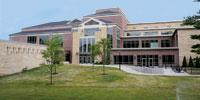 Community and technical college classrooms are overflowing as more students recognize the practical educational value they offer. Trane solutions help you direct more financial resources into areas that help students develop the skills they need to land a great job.