Optimizing the Learning Environment
Students perform best in high performance schools where the physical learning environment is comfortable, quiet, well-ventilated and well-lit. Children demonstrate this fact in classrooms every day. Teachers confirm it. And it is proven by research time and time again.
Effective learning environments are, in part, the result of high performance school design followed by proper maintenance and regular upgrades throughout the life of the building. Best practices in school design and maintenance can produce a number of positive outcomes:
Higher test scores


Increased average daily attendance


Lower operational costs


Improved teacher satisfaction and retention4
 
Trane solutions for K-12 schools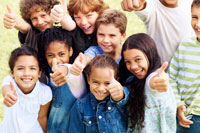 K-12 school district objectives are influenced by indoor air quality, acoustics, and energy and operational efficiency. For more than 50 years, Trane has provided solutions for high performance classrooms and sustainable schools that are fiscally and environmentally responsible, and significantly improve the quality and cost-effective delivery of education.
Our full portfolio of energy efficient HVAC equipment, cutting edge building controls and service plans are only part of the story. Our real strength is the consultative approach we take to helping school districts identify and implement the classroom conditions that are essential to learning. Trane energy education programs are designed to build students' appreciation for the environment and their surroundings by raising their understanding of the many ways that buildings impact their everyday lives..