Enhancing the physical learning environment
Multiple studies prove that classroom conditions play an important role in educational outcomes. Many schools are directing resources to upgrade the less tangible aspects of the physical learning environment, including indoor air quality and classroom acoustics.
Trane capabilities contribute to the classroom conditions that enable students and teachers to achieve a higher level of success.
Indoor air quality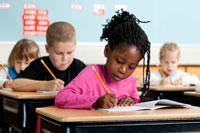 Student performance improves in classrooms that maintain comfortable temperature and humidity levels. Proper ventilation to bring in the proper amount of fresh air is important, as well.
Classroom acoustics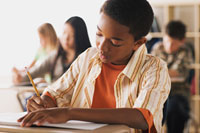 Classroom acoustics is a key aspect of a high performance school. Optimum background sound levels for learning are defined by the ANSI/ASA Standard S12.60 for classroom acoustics. Trane has demonstrated that these acoustical requirements can be met with little or no impact on classroom construction costs.