Using energy wisely is everyone's responsibility—even kids can make a difference! Trane energy education programs use hands-on, interactive learning to help students of all ages explore ways to make their schools and homes more energy efficient.
Energy education programs from Trane
Trane is a leading provider of indoor comfort systems that heat and cool buildings efficiently, all over the world. We've used our professional knowledge about responsible energy use to develop hands-on learning programs that support the energy and environmental education efforts of K-12 schools.
Trane energy education programs engage students, teachers, parents and the surrounding community, while piquing interest in various science, technology, engineering and math (STEM) careers.
The BTU Crew™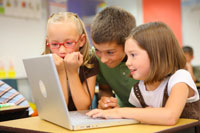 The BTU Crew is an educational program on energy use and conservation in buildings, as well as science, technology, engineering and math (STEM) careers that are fun and can have a positive contribution to the environment. The program will give students the guidance and tools to make a difference in commercial and public buildings today. The curriculum can be customized to meet local needs, and while it can be adapted for older and younger students, it is targeted for those in grades 4 – 6.
Students learn about energy—what energy really is, how to conserve it, and related careers—along with ways that they can take action at school and at home.
Supporting materials make each lesson easy to teach, and the concepts are readily adaptable to suit the needs of students of virtually any age or ability.
Education Green Dashboard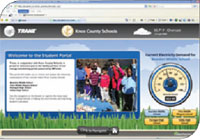 Trane brings green technology into the classroom through the Education Green Dashboard, an interactive, fun and easy-to-use tool that enables school districts to use new and existing building and control systems as classroom teaching tools and share their efforts with the community around them.
Using interactive web pages, students learn about the environmental conditions inside their classrooms, while gaining an understanding of how their own everyday actions impact school energy consumption and the environment.
The Trane Education Green Dashboard teaches students about a variety of energy conservation projects and ways to apply the concepts within their school building.
Kansas School Gets Trane Energy Efficiency Leader Award
Students make a difference
Students attending middle school in Elizabethton, Tenn., learned about ways to make their school more energy-efficient—then recommended improvements to the local school board.
Read More
In Tonganoxie, Kan., sixth graders encouraged state policy makers—and the governor—to implement policies that would help school become more energy efficient.
Read More