Turn Shoppers into Buyers with Better Indoor Air Quality.
Retail environments that are too hot or compromised by a bad odor are extremely irritating to shoppers. People prefer cooler store temperatures. Fresh air is a must!1 Employee productivity suffers, too, when working conditions are uncomfortable.
Trane Planned Replacement Program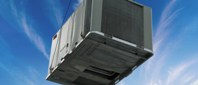 Being proactive in planning the replacement of old, worn-out units with new, energy-efficient equipment from Trane, can maximize savings, minimize hassles and ensure reliable operation!
Please contact your Trane representative to learn more about how Trane's Planned replacement program can help you.
Climate Control for Optimal Shopping Conditions
Trane provides indoor climate control systems for every type and size of retail facility. Our HVAC solutions can be easily replicated across similar stores or geographic areas.

Light commercial packaged rooftop units — Precedent™ and Voyager™ — provide reliable climate control. They reduce unpleasant odors and damaging humidity through factory-installed options such as MERV 13 high-efficiency filtration and hot-gas reheat.

Larger shopping malls achieve better temperature control and superior energy efficiency by installing industrial chillers by Trane. Implementing a sustainability plan? The EarthWise™ CenTraVac® centrifugal chiller is proven and documented to be the most sustainable industrial chiller on the planet.
X
Light-commercial rooftop units offer the lowest installed costs, the lowest operating costs and the fastest delivery times in the industry.
X
Trane's Earthwise CenTraVac Chillers provide superior technology, low cost of ownership, environmental stewardship and reliability.
Building Automation Systems Protect Your Brand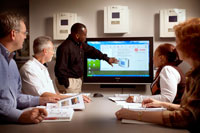 Conditions inside retail stores affect perceptions about price and value. An easy-to-manage building automation system featuring Tracer™ SC building automation system makes it easy to maintain a comfortable shopping environment.Tracer ES™, a web-based enterprise management system, which enables centralized climate control over multiple store locations, helps you create a consistent brand experience from store to store. Organizations that prefer an internal approach to energy analysis and management can leverage Trane eView™ software. This energy reporting and dashboard solution makes it easy to track and document energy use and greenhouse gas emissions.
Create Better Retail Environments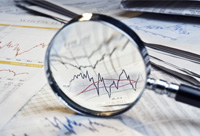 Discover cost-effective opportunities for renewing HVAC systems infrastructure performance through a free, no-obligation analysis conducted by Trane professionals. Learn more about Energy Retrofit Services.

Trane Intelligent Services enables us to remotely monitor your HVAC systems, issue alerts when performance variations may be impairing energy efficiency, provide periodic reports and formulate plans to improve building performance.

Trane National Services delivers a high level of professional skill, along with proven technology and processes, through a nationwide network of local service offices. Our centrally managed approach helps you achieve consistent quality standards, energy savings and reliability across your entire building portfolio.
Retail Planned Replacement Video
Trane National Accounts
Gain consistent results and priority service across the entire U.S. Trane National Accounts offers a proven project management process, simplified procurement, pre-commissioned controls, factory-tested comfort solutions and more. Call us:
800-872-6330.