Attract students and faculty to your campus
Trane specializes in the intangible, invisible factor that is critical to the mission of higher education: indoor air quality (IAQ). Trane solutions enable you to properly (and precisely) manage air cleaning, air conditioning and heating, and humidity levels to suit specific applications throughout your campus—in new and old buildings.
Trane can help deliver an exceptional educational value by maximizing operational cost reduction through improved energy efficiency while providing the ultimate learning environment.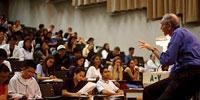 Create better learning environments and research conditions
Effective classrooms
Numerous studies, including those conducted by the IAQ Scientific Findings Resource Bank (SFRB), a cooperative venture between EPA and the Lawrence Berkeley National Laboratory, have shown that ideal IAQ improves the performance of mental tasks, including concentration and recall. Trane technologies establish and maintain proper IAQ.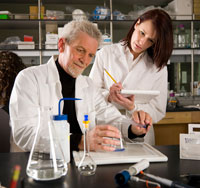 Lab safety and productivity
Research labs are vital to your reputation and revenue stream, but they have the potential to produce air quality hazards, and they may fall under the jurisdiction of health regulations. Meanwhile, sensitive instruments and experiments may require precisely controlled temperature and humidity levels. Further complicating the matter: laboratories must be revised every few years as current projects end and new researchers take over the space.
Trane provides solutions to ensure that IAQ levels support lab safety and research success. Our flexible applications can
accommodate changing project requirements with a few quick and easy modifications.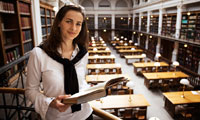 Archive preservation
Colleges and universities are the keepers of history and legacy. Trane can control precise humidity and temperature conditions for optimum document preservation and the safekeeping of priceless artwork and historical artifacts. CDQ™ dessicant dehumidification from Trane keeps buildings cool, dry and quite while incurring less energy cost. This is an ideal technology to implement in areas where humidity control is critical, including libraries, museums and galleries.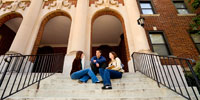 Upgrade residence halls and recreational facilities
Building new or renovating existing residence halls and athletic facilities is one of the best ways to attract students to your school, and to keep more students living on campus. These campus facilities can also promote student health and wellness. However, you need to take more than aesthetics into consideration. The most important upgrades are not always visible.
Trane offers innovative and energy-efficient solutions for improving IAQ in residence halls, athletic facilities and student union buildings—wherever students gather in large numbers or close quarters. For example, equipping air handlers with a Trane Catalytic Air Cleaning System (TCACS) effectively reduces biological organisms such as spores, bacteria and even the tiniest viruses.