C.D.S. Newsletter December 2012
In this issue...
Design Tools Suite 4.1 Now Available
New versions of Trane Acoustics Program (TAP™), VariTrane™ Duct Designer, Pipe Designer, and Engineering Toolbox are now available. This update includes a more intuitive user interface, improved Windows® infrastructure, and faster calculation speeds. A new report viewer makes analyzing data easier than ever.

View the complete list of changes for each program:

With this update, all four programs are available from one Design Tools Suite download. You select which programs to install; you'll receive a free, 30-day trial for any selected program(s) for which you do not hold a license.
New Software Activation Process
In order to provide you with the best service and support, C.D.S. is making it easier for you to keep your license current by notifying you when it is time to renew. This will require you to activate each program. Activation instructions will be provided on-screen. View C.D.S. software activation FAQs...
*From the Download Center, select All C.D.S. Software. If you have a current license for more than one Design Tool program, you only need to select the Standalone Full install for one of the programs. Because all four programs are now bundled together, you will be able to select which program(s) to download during the installation process.

If you do not have a current license but would like to try the programs, select the Trial option for any Design Tool program.
Stretch Your Project Dollars With Static Regain Duct Design
Whether you are a design/build contractor, a building owner, or a consulting engineer, the VariTrane™ Duct Designer software can put more money in your pocket. Static regain duct design is a big airside opportunity to help your customers stretch their project dollars. Whether it is the installed cost savings, the reduction in annual HVAC operating costs, the lower noise levels, or more billable hours that catch your interest, a computerized static regain design method can help.

Using a high-velocity, static-regain designed round-duct network can save $0.25-$1.00 or more per square foot of installed cost due to significantly fewer pounds of sheet metal being used (compared to the bigger and heavier traditional rectangular ductwork). The approach works well for projects as small as 25 tons, but generally speaking, the larger the project, the more efficient a VariTrane Duct Designer project becomes.
The installed cost savings alone are enough to warrant the use of this technology, but it has even more to offer. Spiral round duct has two energy saving advantages over legacy rectangular ductwork: reduced duct leakage and less heat gain.
Reduced duct leakage. Spiral duct seams are so tight that sealing is not typically required. Also, the number of seams is reduced since the spiral duct is typically provided in longer lengths (typically 10 to 12 feet vs. 4 to 5 feet for rectangular ductwork). Fewer and tighter connections leads to less duct leakage, which in turn provides reduced fan operating costs.
Less heat gain. Round duct has less surface area than comparable rectangular. And since heat gain is a function of duct surface area, there is less unwanted heat transfer.
In addition to the financial benefit, using VariTrane Duct Designer to produce smaller, more efficient, high-velocity round duct networks offers an intangible benefit that is worthy of consideration. These computer-designed duct networks are often significantly quieter than the old rectangular ducts. When designing for a school or hospital, acoustics can be a serious concern. Trane's advanced design software can give you an advantage when it comes to addressing sound-sensitive environments.
Resources
Solve Acoustical Problems with TAP™
Predicting and understanding acoustics can be a real headache for an engineer, building owner, or contractor. Undesired noise can affect tenant satisfaction – resulting in lower productivity. In fact, more than 50% of occupants in an office space think acoustics interfere with their ability to get their job done.* So if the occupants can be so concerned about sound, why is it never on the top of the list for building designers?

Sound quality is a confusing topic and the majority of issues regarding acoustics typically occur after the equipment is installed. Even more alarming is that sometimes HVAC equipment does not meet a specified rating even though the same equipment was used on a previous job with a good result. How can these issues be mitigated in order to save time and money?

Trane Acoustics Program (TAP™) is an acoustical modeling software tool that predicts how sound from HVAC equipment will impact the building's occupants and adjacent neighbors. TAP can compare the sound characteristics of several system alternatives – allowing the user to determine the quietest, most cost-effective design for a project or building. TAP also provides the most common sound rating methods in a graphical interface.

TAP uses the source-path-receiver approach to convert equipment sound power values to sound pressure in order to account for internal environmental factors. The acoustical effect of each component of the sound path is determined using calculations that are derived from ASHRAE's Algorithms for HVAC Acoustics handbook (1991). These calculations are consistently updated based on releases from ASHRAE research or changes to the applications handbook.

TAP helps engineers, building owners, and contractors accurately model HVAC equipment interactions within a building to prevent acoustical issues after a job has been completed. The software comes with a Getting Started Guide, online Help, and expert advice from the C.D.S. support center. For questions, don't hesitate to contact C.D.S. at 608-787-3926.

*Jensen, K. L., E. Arens, and L. Zagreus. "Acoustical quality in office workstations, as assessed by occupant surveys." Indoor Air 24 (2005).
Acoustical Resources
To assist design professionals, Trane has a broad array of educational documents and application experts that can assist you with the acoustical design for high performance buildings. For more information, visit www.trane.com/acoustics.
Frequently Asked Support Questions
What are the limitations of the free trials of TAP, VariTrane Duct Designer, Pipe Designer, and Engineering Toolbox?
The only limitation is the 30-day trial period. You will receive complete access to the programs so that you can fully experience all they have to offer. After the 30 days have expired, you can purchase a license for continued access.

To download a free trial, go to the Download Center and select the trial version of any Design Tool program. Because all four programs are now bundled together, you will be able to select which program(s) to download during the installation process.
What is the correct way to model breakout or radiated noise in a duct passing through a room in Trane Acoustics Program (TAP)?
The sound radiated from a duct passing over an occupied room is modeled using the duct breakout element in TAP. The duct breakout element (Elements >Sound Transmission>Duct Breakout/in) calculates how much of the sound inside the duct passes through the duct wall to the area surrounding the duct.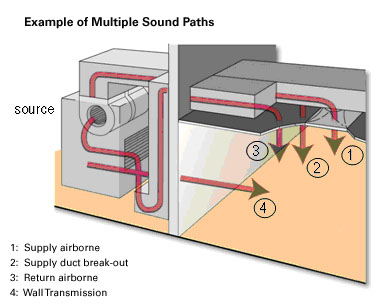 The duct breakout sound element is only used in a duct breakout sound path (see Path 2 in the figure above). A duct breakout sound path contains all the elements required to model the sound traveling from the sound source to the portion of the ductwork that is over the room where duct breakout is a concern. After the duct breakout element, the sound path then continues outside the duct. For example, if the duct is in a ceiling plenum, the next element would be a ceiling transmission loss element to account for the transmission loss traveling through the ceiling and into the room.

Once in the room, an indoor receiver sound correction element is used to account for the acoustical characteristics of the room. Choose Diffuse Field Theory methodology from the Room Equation field (Elements>Receiver Sound Correction>Indoor).This equation is used for sound from a line source. Both the duct breakout element and Diffuse Field Theory methodology ask for the length of the duct. This is the length of the duct over the room (or area) of concern.

Example of a TAP model of Path 2 in the figure above

If the duct is wrapped with a special material to increase transmission loss (e.g., a weighted vinyl or gypsum board) use a duct lagging element (Elements>Duct Sound Attenuators>Lagging) in addition to, and directly after, the duct breakout element to model the added material.

A documented example can be found in the TAP Getting Started User's Manual; an example file is also installed with TAP.
Meet the C.D.S. Support Staff
KEVIN SIMMS
Kevin Simms joined C.D.S. as a marketing engineer in November 2011 after interning for GM at the Corvette Plant in Bowling Green, KY. He attained a Bachelor's degree in mechanical engineering in 2011 from Western Kentucky University. After the work day ends, he enjoys reading, video games, and any outdoor activity, although Ultimate Frisbee is by far his favorite.
What is your most prized possession?
My Frisbee. If I had not started playing, I would never have met a lot of the people I now consider to be great friends—including my fiancée.
What is your favorite thing about working in C.D.S.?
My favorite thing about working in C.D.S. is helping people. I have a small "white knight" complex, so getting to help people makes me very happy.
RAY SLAUGHTER
Ray Slaughter joined C.D.S. as a marketing engineer in November 2011. He graduated with a chemical engineering degree from Louisiana State University in 1997. After college, he spent three years working as a production engineer for specialty chemical manufacturers in southern Louisiana. For the next ten years, he worked as an engineering technology leader for an engineering consulting firm. Ray also served over 7 years in the Army National Guard as a Russian interrogator. Originally from Baton Rouge, he spends the majority of his time with his three children.
What is your favorite piece of technology?
My 17" MacBook Pro.
If you could invite any three people (living or dead) to a dinner party, who would it be and why?
Ludwig von Mises – One of the most gifted economists of the 20th century.
Jesse Ventura – Remarkable career in the military, politics, as well as the entertainment industry.
Nassim Taleb - Fascinating work on problems of randomness, probability and uncertainty.
Contributors: C.D.S. marketing engineers Kit Fransen, Rob Jordan, Kevin Simms, and Ray Slaughter.