C.D.S. Newsletter June 2013
In this issue...
Waterside Free Cooling in TRACE 700
Water economizing (or free cooling) is the production of chilled water without (or with limited use of) a chiller. ASHRAE Standard 90.1-2007/2010 requires buildings in certain climate zones to economize either by air or water. According to Hanson¹, water economizing is a great option if air economizing cannot be used due to humidity requirements or system/equipment limitations (p. 1).

This article covers the free cooling inputs in TRACE. It does not cover the calculations and control strategies that affect free cooling operation—we'll address that topic in a future article.

How do you model free cooling in TRACE 700?

The majority of the free cooling inputs are on the Cooling Equipment Controls screen in TRACE (Figure 1). To access this screen, go to Create Plants, click the Cooling Equipment tab, and click the Controls button. Six free cooling options are available: fluid cooler parallel, fluid cooler series, plate and frame (parallel), plate and frame series, refrigerant migration, and the strainer cycle. We'll discuss other free cooling inputs in TRACE as they apply to each free cooling type below.
Figure 1. Free cooling inputs on the Cooling Equipment Controls screen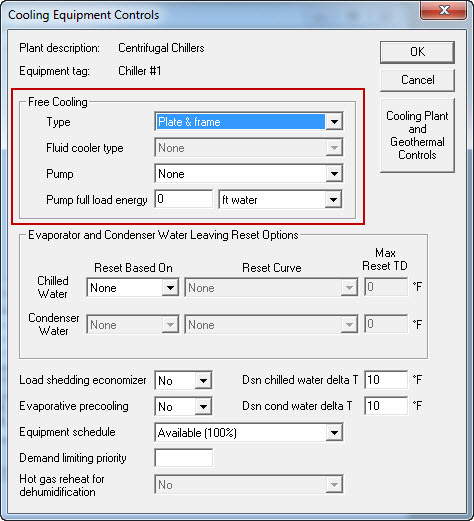 Fluid Coolers
There are two types of fluid coolers: dry or evaporative. Dry coolers are similar to standard air-cooled condensers but instead of refrigerant, they contain a glycol mixture fluid within the coils. Evaporative fluid coolers have the same mixture within the coils, but water is sprayed over the condenser in order to benefit from typically lower ambient wet-bulb temperatures. Fluid coolers in TRACE 700 also have a heat exchanger between the return chilled water and the fluid cooler loop.

Key Inputs

When entering a fluid cooler in the Create Plants section of the program, be sure to select the appropriate fluid cooler type.

The characteristics of the fluid cooler are defined in the Heat Rejection Library (Figure 2).

The approach temperature of the fluid cooler heat exchanger is defined on the Options tab of the Cooling Equipment Library (Figure 3).
Figure 2. Fluid cooler inputs in the Heat Rejection Library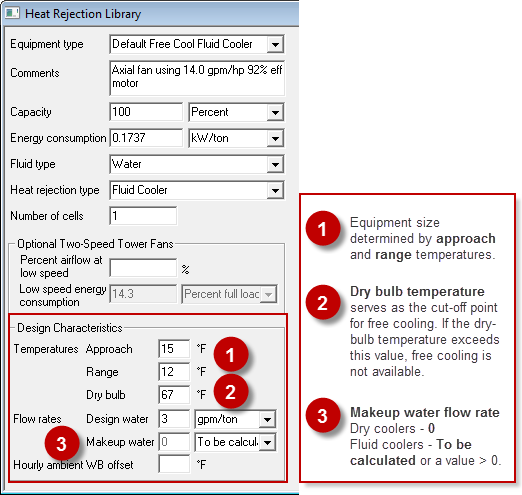 Plate-and-Frame Heat Exchangers
Plate-and-frame heat exchangers provide free cooling to satisfy part or all of the cooling load that would otherwise be handled by the chiller.

There are two types of configurations for plate-and-frame heat exchangers in a chilled-water plant. Plate-and-frame series supplements mechanical cooling, whereas plate-and-frame (parallel) only operates if it can handle the entire cooling load. Both options require appropriate free cooling ambient conditions in order to function properly.

Key Inputs

The important inputs for a plate-and-frame heat exchanger are defined on the chiller to which it is assigned. The plate-and-frame heat exchanger approach temperature defaults to 3°F, but it can be changed on the Options tab of the Cooling Equipment Library (Figure 3). (As previously mentioned, the approach temperature of the fluid cooler heat exchanger can be changed here as well.)
Figure 3. Cooling Equipment Library - Options tab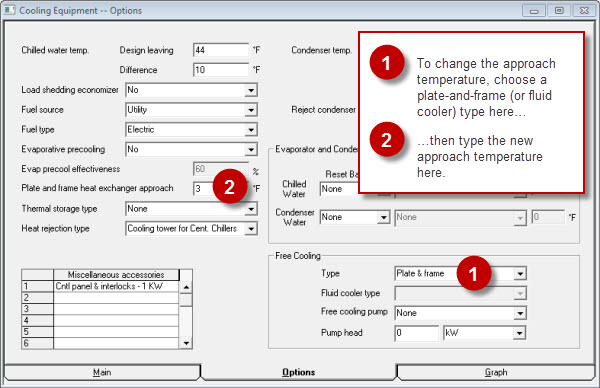 Strainer Cycle
The strainer cycle is similar in methodology to the plate-and-frame heat exchanger in parallel but there is no heat exchanger. The chiller is bypassed completely and the condenser water becomes the chilled water during free cooling mode.

Key Inputs

No additional configuration is necessary for the free cooling operation (besides selecting it under the free cooling section for the equipment). This free cooling cannot be used for air-cooled equipment.

Refrigerant Migration

Refrigerant migration is defined as using a chiller to provide chilled water to the system without a need for compressor operation. This piece of equipment operates on the principle that refrigerant migrates to the point of lowest temperature in a system.

Key Inputs

No additional configuration is necessary for the free cooling operation (besides selecting it under the free cooling section for the equipment).
References/Resources
Trane Celebrates 100 Years of Innovation
Trane employees have a lot to celebrate this year. Not only did Trane reach its milestone 100-year anniversary, but 2013 marks the anniversaries of the following industry-changing innovations as well:
The 75th anniversary of the Trane Centrifugal chiller
The 40th anniversary of Trane TRACE™ design-and-analysis software
The 35th anniversary of Trane Tracer™ building controls
To learn about some of the technology highlights from the last 100 years of Trane, check out this Engineers Newsletter. For a quick look at the evolution of TRACE, read on …
TRACE Turns 40... A Brief Look Back

Trane Air Conditioning Economics (TRACE™) made its debut at the 22nd International Air Conditioning, Heating and Refrigeration Exposition in 1973. At that time, TRACE used a mainframe system (yep, punch cards!) to run load calculations and conduct energy analyses. The program evolved and by 1982, Trane officially created the Customer Direct Service (C.D.S.) department to support TRACE customers. In the 80s and 90s, TRACE made the leap to the PC—and then from DOS to Windows®—and incorporated even more energy saving options.

During that time, C.D.S. developed other software programs such as System Analyzer™, Trane Acoustics Program (TAP™), VariTrane™ Duct Designer, and Trane Pipe Designer to meet the growing needs of the industry.

Today, C.D.S. continues to grow as the focus on energy and cost savings becomes increasingly important. Our staff has nearly doubled in the last few years, giving us more manpower to provide world-class customer service, conduct training, and develop new features for our software. We're hard at work on the next version of TRACE ... stay tuned for exciting new features designed to make energy analysis faster and easier.
TRACE in the 70s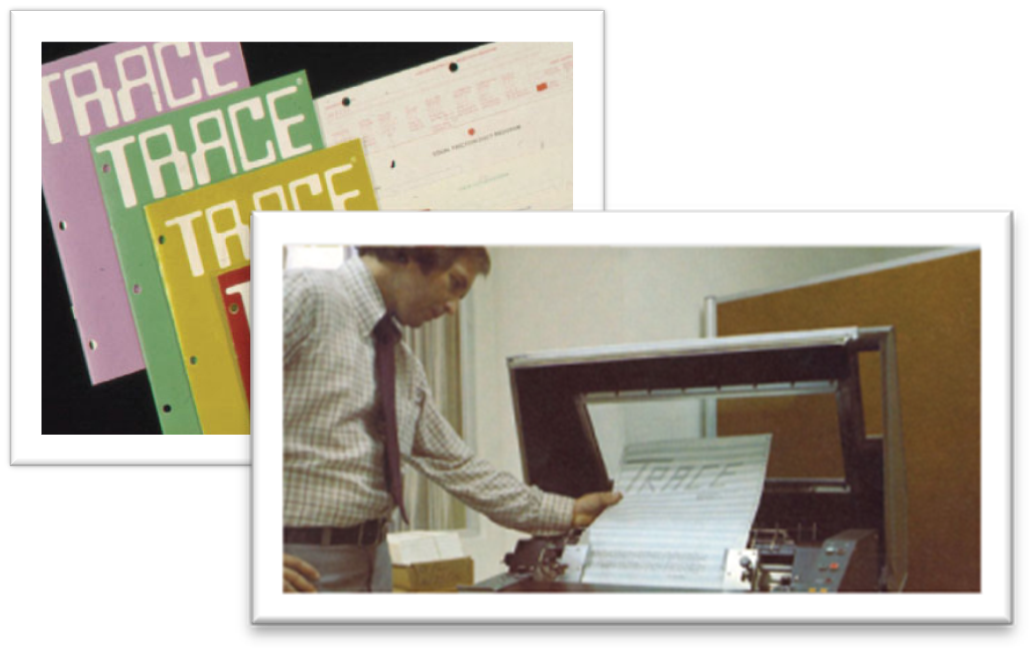 New Courses Available for LEED® Credential Maintenance
New on-demand courses have recently been added to the Trane.com Continuing Education offering, including courses that qualify for 1.5 LEED-specific continuing education (CE) hours from the U.S. Green Building Council (USGBC). As part of USGBC's credential maintenance program, LEED APs are required to earn 30 CE hours biennially, 6 of which must be LEED-specific. View the course offerings at www.trane.com/continuingeducation.

Course Spotlight: ASHRAE Standard 62.1-2010
ASHRAE Standard 62.1, Ventilation for Acceptable Indoor Air Quality, is the basis for the International Mechanical Code (IMC), and is a prerequisite for the LEED® Green Building Rating System. This ENL provides an overview of the 2010 version of the standard, and then focuses on the calculations of zone and system ventilation airflows according to the standard's Ventilation Rate Procedure. Qualifies as 2 LEED-specific CE hours.
Get the Most Out of Your Software with C.D.S. Training
Did you know that Trane C.D.S. marketing engineers regularly conduct training sessions at our La Crosse, Wis., headquarters? Training sessions include:

DAY 1: System Analyzer™
DAY 2: TRACE 700 Load Design
DAY 3: TRACE 700 Energy & Economics
DAY 4: TRACE 700, LEED® & ASHRAE Standard 90.1
Attend one session or all four!

Can't make it to La Crosse? We'll come to you! Contact us for on-site training at your facility. We also provide training at Trane sales offices nationwide.

For course descriptions and training information, click here. We hope to see you soon!
Frequently Asked Questions
How do I model a base utility in TRACE 700?
In TRACE 700, base utilities are energy consumers that place no cooling or heating load on a building's HVAC system. Common examples of base utilities include domestic hot water systems, parking lot lights, and process water or steam loads.

You typically create base utilities in TRACE to do one of two things:

1. Impose a load on cooling or heating equipment. For instance, a domestic hot water base utility might be assigned to a boiler.

2. Consume energy ("spin the meter") on its own. Parking lot lights fit this description: they're going to consume energy that the building will be charged for, but they can't be modeled as miscellaneous loads because they won't affect any space cooling or heating loads.

If an energy consumer is being added directly to a space, it should be modeled as a miscellaneous load that will impose cooling and heating demands on the space. This can be done using the Create Rooms > Internal Loads tab.

For more details and an example of how to model a base utility in the program, refer to this excerpt from the TRACE 700 User's Manual.
On the Energy Consumption report, why are the receptacle loads different between alternatives, even though "Use Alternative 1" is selected on both Create Templates and Create Rooms?
The difference in results is likely due to specification of heat recovery in one of the alternatives. Parasitic power, which accounts for the operation of energy recovery devices within TRACE, is reported within the receptacle loads section of the Energy Consumption Summary report. This power represents pump consumption for a coil loop, motor consumption for a wheel, or a separate "regeneration" fan in the case of an active desiccant system.

The parasitic energy value is entered in Create Systems > Options tab > Options button under Stage 1 or Stage 2 Air-to-Air Energy Recovery: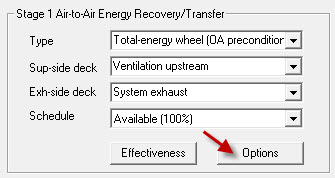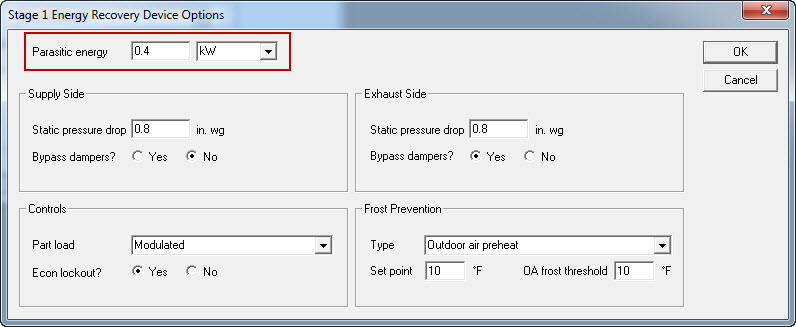 Meet the C.D.S. Support Staff
HALEY GOSLINGA
Haley joined C.D.S. in June 2012 after graduating with a degree in mechanical engineering from the University of Iowa. She was in the U.S. Army Reserve while in college and served two tours in Iraq. Haley is originally from northeast Iowa. In her free time, she enjoys spending time with her family, being outdoors and training dogs with her husband.
What is your favorite piece of technology?
My iPhone. I love that I can do so much with one little device.
My favorite thing about working in C.D.S. is…
I learn something new nearly every day. Helping customers with a large variety of questions allows me to expand my knowledge while providing solutions. The environment in C.D.S. is very collaborative, which gives me the chance to learn from coworkers or help with a problem I am familiar with. It really helps to demonstrate that no matter how long you are in a field, there is always room for growth.
JOHN SUSTAR
John Sustar joined C.D.S. as a marketing engineer in January 2012. Prior to joining C.D.S., John lived in Colorado while earning his master's degree in Building Systems Engineering from the University of Colorado-Boulder and working as an Energy Efficiency and Renewable Energy researcher. He holds an undergraduate engineering degree from the University of St. Thomas. Outside of work, he enjoys spending time outside with his family and flatpicking on guitar.
What is your favorite piece of technology?
I love listening to podcasts, especially while doing the dishes. My favorite podcasts include Freakonomics, This American Life, Radiolab, and By the Way, In Conversations with Jeff Garlin.
If you could invite any three people (living or dead) to a dinner party, who would it be and why?
David Byrne - Makes incredible music and has no shame wearing oversized suits
Steven Levitt - An economist who uses data to provoke honest conversation
Zach Galifianakis - Sarcastic, subtle, and sensitive
Contributors: C.D.S. marketing engineers Kit Fransen, Haley Goslinga, and John Sustar.