C.D.S. Newsletter March 2013
In this issue...
TRACE 700™ Version 6.2.10 Now Available
TRACE 700, Load Design, Load Express, and Chiller Plant Analyzer updates are now available. The newest version, 6.2.10, includes the following updates:
The TRACE 700 single-zone VAV (SZVAV) control strategy has been updated to mirror field performance. The previous strategy used an algorithm that was overly conservative in the control deadband. The new control strategy uses a more aggressive supply air temperature reset that is commonly applied to SZVAV systems (Figure 1).
Figure 1. SZVAV control with variable-speed fan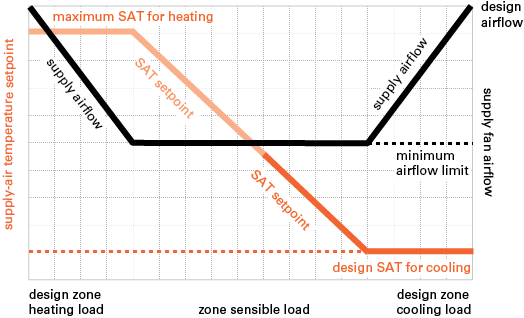 Figure 1 depicts an example control sequence for a single-zone VAV system that uses a variable-speed fan. When the zone is at design sensible cooling load (right-hand side of the chart), this system delivers maximum supply airflow at the design supply-air temperature (SAT) for cooling (e.g., 55°F). As the zone cooling load decreases, supply airflow is reduced as needed to maintain the desired temperature in the zone. Eventually, the zone sensible cooling load decreases to the point where supply airflow reaches a minimum limit. As the cooling load continues to decrease, the fan remains at minimum airflow, but now the SAT setpoint is gradually reset upward to avoid overcooling the zone.

When the zone eventually requires heating (that is, when the zone temperature drops to the heating setpoint), the fan continues to operate at minimum airflow and the SAT setpoint is reset even further upward. Heating capacity is staged or modulated to maintain this supply-air temperature.

Eventually, the zone heating load may increase to the point where the SAT reaches a pre-set maximum limit. As the zone heating load continues to increase, supply airflow is again increased, while heating capacity is staged or modulated to maintain the SAT at this maximum limit.

In general, this control strategy should decrease the heating usage when compared to its predecessor.
Additional resources on single-zone VAV systems
ASHRAE Standard 90.1-2007 PRM Fan Power Calculation
The ASHRAE Standard 90.1-2007 Performance Rating Method (PRM) fan power calculation has been updated in TRACE 700. Table 6.5.3.1.1B of the standard is based on the design airflow through each applicable device. According to Appendix G, there are four applicable PRM fan types: supply, return, exhaust, and relief.

To account for the 90.1 static pressure adjustment of each fan, the 90.1 SP Adjust column has been added to the Fans tab of Create Systems (Figure 2). Previously, TRACE only accounted for the static pressure adjustment of the primary fan.

The fields in this column will only become available when:
Apply ECB/PRM rules to fan sizing is checked on the Change Energy Parameters screen,
ASHRAE Standard 90.1-2007 (PRM Only) is selected on the Change Energy Parameters screen, and
two alternatives exist.
Figure 2. Fans tab on Create Systems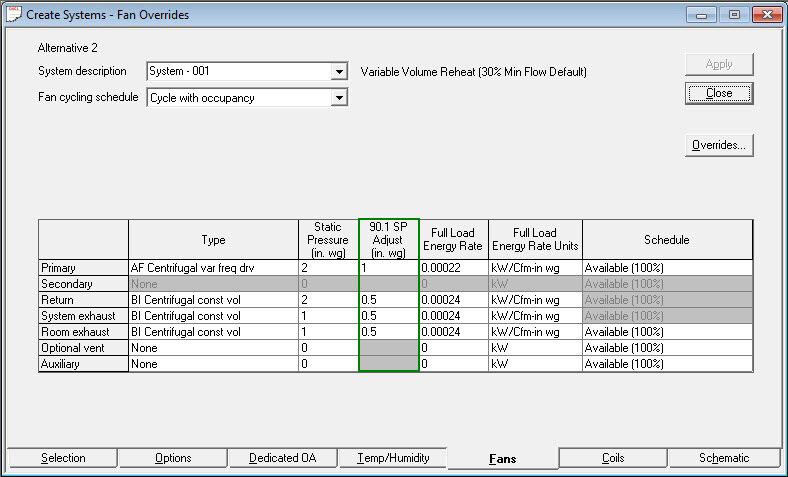 How does this affect the calculation?

The additional static pressure adjustment inputs in TRACE 700 directly affect the calculation of the "A" value, which is used in Table G3.1.2.9 of ASHRAE Standard 90.1-2007. According to the standard:

A = sum of (PD x CFMD/4131)

where

PD is the static pressure adjustment from Table 6.5.3.1.1B (in. wc)

CFMD is the design cfm through each applicable device
The new 90.1 static pressure adjustment inputs enable TRACE to calculate the adjustments for each fan, instead of the primary fan only. The "A" value is then used in the calculation for brake horsepower in baseline systems 3 through 8.

Note: When you update to TRACE version 6.2.10, any previous static pressure adjustments entered for the primary fan will now display in the Primary row of the 90.1 SP Adjust column.
Additional resources
New Version of TOPSS Available
TOPSS version 8.8.061a is now available for download. To download the update, access the Download Center.
New Courses Available for LEED® Credential Maintenance
New on-demand courses have recently been added to the Trane.com Continuing Education offering, including courses that qualify for 1.5 LEED-specific continuing education (CE) hours from the U.S. Green Building Council (USGBC). As part of USGBC's credential maintenance program, LEED APs are required to earn 30 CE hours biennially, 6 of which must be LEED-specific. View the course offerings at www.trane.com/continuingeducation.

Course Spotlight: ASHRAE Standard 189.1-2011 Update
ASHRAE Standard 189.1-2011 Design of High-Performance Green Buildings is a mandatory-language code-intended standard with provisions related to building sites, water use, energy efficiency, general environmental impact, and indoor environmental quality. This program presents an overview of the standard and provides insight regarding its potential impact on future building codes and building designs.

Frequently Asked Questions
How do I model room-to-room air transfer in TRACE 700?
The Room-to-Room Air Transfer (RTR) feature allows users to transfer ventilation air between multiple spaces using fields on the Airflows tab of Create Rooms.

The room exhaust can exceed the sum of the ventilation and infiltration as long as an adjacent space has been selected and has sufficient ventilation plus infiltration to provide transferable air. TRACE calculates the available transfer airflow using the following steps:

Step 1: The program calculates the amount of incoming air to the specified space (ventilation + infiltration).

Step 2: TRACE subtracts room exhaust from that value.

Step 3: If the value is negative, the program will bring in enough air from the adjacent space at the adjacent space's air condition (if enough outside air is available in the adjacent space) to make the sum of ventilation + infiltration equal to room exhaust. If there isn't enough outside air supplied to the adjacent space to meet the demands of the specified room, then TRACE will calculate the amount available and provide that to the space. If multiple spaces draw airflow from a single adjacent space and the ventilation plus infiltration in that space is not enough to balance the room exhaust, the program will prorate the room transfer airflow in equal proportions to the airflow requested.

To review the RTR airflows, preview the Cooling/Heating Airflow Balance report on the Detailed Reports tab. This report shows each room, zone, and system with corresponding airflows entering and leaving each space, as well as the balanced airflow totals.

For examples and more information about modeling RTR, refer to "Room-to-room Air Transfer in TRACE 700" [PDF].
Thirty days before the expiration of your TRACE software license, a reminder message will pop up when you start TRACE. Click Renew to go to the online order form. After your renewal has been processed, you will receive an e-mail confirmation (typically within 7 business days). Upon receipt, complete the following steps to activate the software and reset your license expiration date.
Restart your TRACE family program.
When the license activation pop-up window appears, click Activate Now.
Follow the prompts to complete the activation process.
When the activation process is complete, the message "Activation Successful" and your new license expiration date will display. The renewal pop-up message should no longer appear at program start up.

If the pop-up message still appears, please contact C.D.S. Support for further assistance.

If you have other activation questions, refer to FAQs: C.D.S. Software Activation.
Meet the C.D.S. Support Staff
AUDRA BENZSCHAWEL
Audra Benzschawel joined C.D.S. as a marketing engineering in July 2012 after graduating with a degree in mechanical engineering from the University of Minnesota - Twin Cities this past May. During college she worked at the campus bowling alley where she developed a joy for bowling and fixing the machinery. Audra is originally from the La Crosse area, and in her spare time she enjoys baking, reading, and practicing yoga.
What is your most prized possession?
I have a cobblestone from a road in Verona that I brought back with me from studying abroad in Italy. The cobblestone is a reminder of the amazing adventure I went on and how I can't wait to go back to Europe.
If you had to live in a TV show for a month, which show would it be and why?
I would want to be part of Glee because I like to think of my life as a musical, and it would be great if it were acceptable to randomly break out in song and dance throughout the day.
KIT FRANSEN
Kit Fransen joined C.D.S. as a marketing engineer in February 2012 after working for a fan manufacturer in the Chicago suburbs. He graduated in May 2010 with a B.S. in aeronautical and astronautical engineering from Purdue University. Outside of work, Kit enjoys playing metal on his electric guitars while eating deep dish pizza and Chicago-style hot dogs.
What is your favorite piece of technology?
My yellow Sony Walkman—yes, a cassette player!
If you could invite any three people (living or dead) to a dinner party, who would it be and why?
Keith Buckley – He was a full-time English teacher and quit his job to become a full-time metal lyricist and vocalist. There's got to be some good stories here!
Tom Waits – I want to know where he buys his fedora hats.

Brian Wilson – Surf Rock, enough said.
Contributors: C.D.S. marketing engineers Audra Benzschawel, Kit Fransen, and Charlie Jelen.