C.D.S. Newsletter October 2010
In this issue...
TRACE 700 Version 6.2.6.5 Update Now Available
Download update

TRACE 700, Load Design, Load Express, and Chiller Plant Analyzer updates are now available. The newest version, 6.2.6.5, includes the ability to model Variable Refrigerant Flow (VRF) systems, compressor energy breakout options for unitary equipment (see article below), a new LEED Summary report, a new PRM Fan Details report, and updates for ASHRAE 90.1 and 62.1.

For a complete list of changes to this version, visit the TRACE 700 Version Information section.
New Functionality Added to the Cooling Equipment Tab in TRACE 700
Version 6.2.6.5 of TRACE 700 includes two significant changes to the Cooling Equipment tab of Create Plants. First, the following three fields were moved from the Controls section of Cooling Equipment to the main screen: Energy Source, Reject Condenser Heat, and Reject Heat to Plant. (Depending on the type of equipment selected, the Energy Source field may appear as Backup Heat Source.) The fields were relocated to increase their visibility.

Second, a new feature has been added to help calculate compressor-only energy usage. It is discussed in more detail below.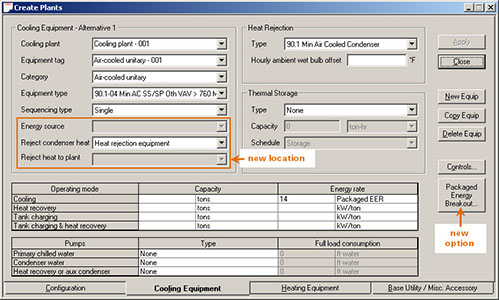 The Packaged Energy Breakout option allows you to select components that are to be subtracted from the user-entered full-load energy rate. This feature has been added because the efficiency reported for packaged systems often includes fan, condenser, and compressor efficiencies. These efficiencies must be calculated separately for accurate reporting.

The Packaged Energy Breakout option becomes available when:
an air-cooled unitary, water-source heat pump, or water-cooled unitary piece of equipment is selected, and
the energy rate unit is Packaged COP or Packaged EER, and
the changes have been saved by clicking Apply.
Clicking Packaged Energy Breakout opens a new window on which different fan types and condenser fans can be selected. Additionally, you can select the option to apply these same selections to the Heat Recovery operation for water-source and air-to-air heat pumps.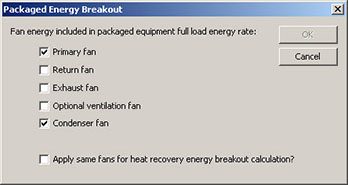 TRACE will automatically subtract each selected component's full-load energy rate from the packaged energy rate entered in the Operating Mode section on the Cooling Equipment tab. The newly calculated compressor-only full-load energy rate will be displayed on the Equipment Energy Consumption report for the specific cooling plant.

Note: These same options are available when creating new cooling equipment within the Cooling Equipment Library. The new ASHRAE 90.1-2007 cooling equipment uses these same types of rates.
Attention LEED APs: Attend C.D.S. training, earn LEED credential maintenance credit
The C.D.S. training course, TRACE™ 700 ASHRAE Standard 90.1-2007/LEED®, qualifies for 1.5 LEED-specific continuing education (CE) hours from the U.S. Green Building Council (USGBC). As part of USGBC's credential maintenance program, LEED APs are required to earn 30 CE hours biennially, 6 of which must be LEED-specific.

TRACE 700 ASHRAE Standard 90.1-2007/LEED is an 8-hour class that discusses how to utilize TRACE 700 for LEED Energy & Atmosphere Credit 1 analyses through the Performance Rating Method detailed in ASHRAE Standard 90.1-2007. To view C.D.S. training information, click here.

As a USGBC Education Provider, Trane has been adding LEED credential maintenance courses on a monthly basis to equip LEED professionals with the continuing education needed to stay competitive in the sustainable building industry. Several of these courses are offered online at no charge. Visit www.trane.com/continuingeducation.
Frequently Asked Questions
How do I select the appropriate ASHRAE Standard 90.1 minimally compliant cooling equipment?
A significant part of an ASHRAE Standard 90.1, Appendix G (Performance Rating Method), energy model is the selection and application of the appropriate 90.1 equipment type in TRACE. Several factors define what type of equipment should be used, and design calculation results determine what equipment efficiency will be used.

The attached document will guide you through this process.
Night setback is a control strategy in which the system is shut off during unoccupied hours and the temperature in each zone is allowed to drift away from the occupied setpoint. Allowing the indoor temperature to drift during unoccupied periods saves energy by avoiding the need to operate heating, cooling, and ventilation equipment.

In TRACE 700, night setback affects the energy analysis and not the load-design calculations. During the load-design calculations, TRACE 700 only requires inputs for the occupied cooling and heating setpoints.

For energy calculations, night setback is entered on the Thermostat Templates in Create Templates or the Rooms tab of Create Rooms. Two options are available for modeling night setback:
Entering Cooling and Heating Driftpoints, or
Creating a Cooling or Heating Schedule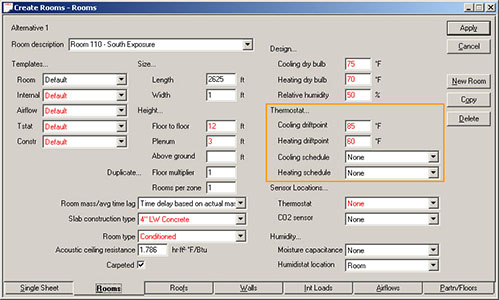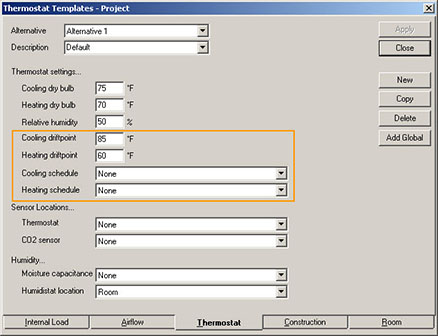 Driftpoints take effect whenever there is five percent or less of the total occupancy in the space. This is determined from the People Schedule on a room-by-room basis. When this criterion is met, a room will be allowed to drift to the specified temperature before the equipment cycles to maintain the given drift temperature or thermostat schedule setpoint.

When using the Cooling or Heating Schedule, a Thermostat schedule must be created in the Schedules Library defining all hours for each day-type and the corresponding thermostat setpoint.

The cooling and heating setpoints should not be input as the same value; thermostat setpoints should have at least a degree of separation to model the drift in the thermostat. Not correcting this input will result in cycling of the cooling and heating equipment, and possibly an overestimation of the energy used by the equipment.

Note: The thermostat schedules override the setpoint and driftpoint entries for energy analysis calculations.
Meet the C.D.S. Support Staff... Tony Lee
Tony Lee recently joined the C.D.S. group as a Marketing Engineer in July after 13 years in Trane's Building Automation Systems division. His positions within Trane have included: an instructor in Trane's College of Building Automation (TCBA), team programming lead for the Pre-Packaged Solutions program, and most recently Senior Training Development Engineer in TCBA.

Tony holds a Bachelor of Science degree in Mechanical Engineering from the University of Wisconsin – Madison. He has just relocated to the La Crosse community with his wife Carol and their two dogs. Outside of work, Tony enjoys model railroading, flying, sailing and puppetry.
What three items would you take if stranded on a desert island?
A copy of the book, The Complete Idiot's Guide to Survival on A Desert Island
An inextinguishable source of fire
An inexhaustible source of fresh water
What is the most enlightening book you've read in the past year?
My Bible.